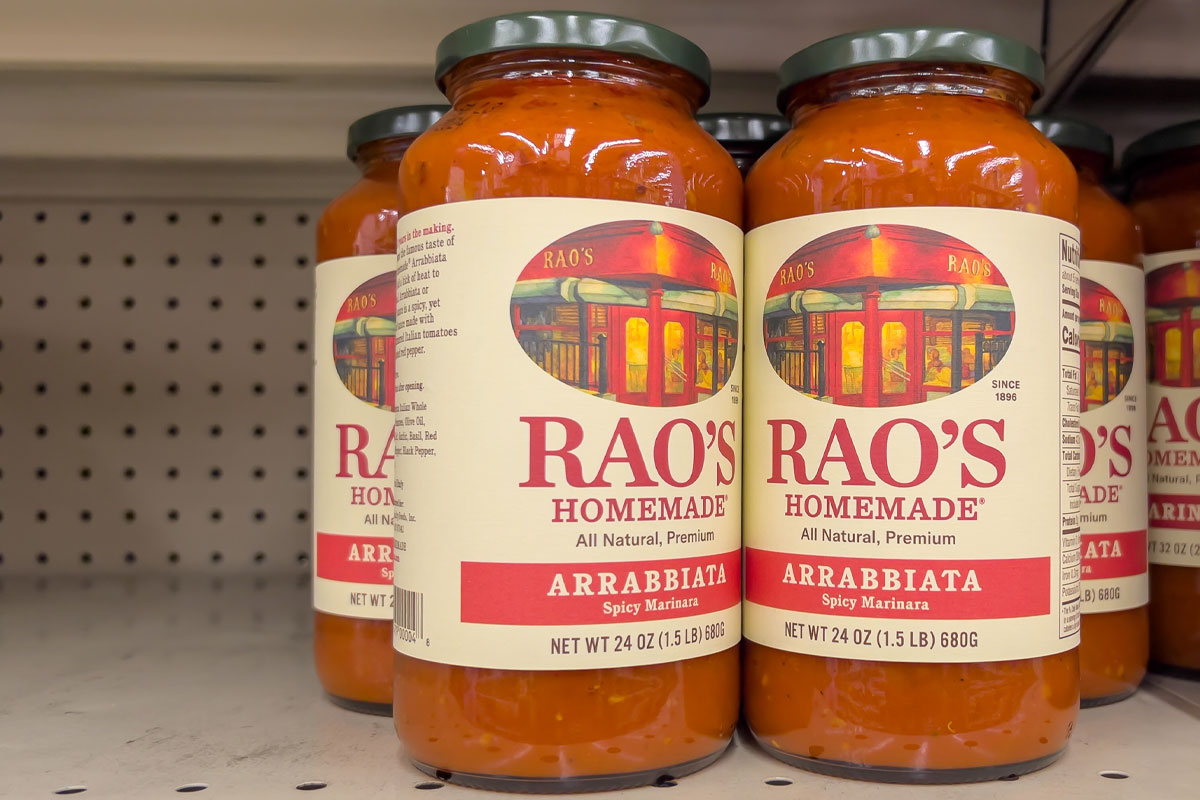 CAMDEN, NJ. — The Campbell Soup Co. currently has little to no presence in the specialty sauces and frozen meals segments. The addition of the Rao's and Michael Angelo's brands is expected to create "one of the most compelling center-of-the-store grocery portfolios in the industry," said Mark A. Clouse, president and chief executive officer.
Campbell Soup's proposed $2.7 billion acquisition of Sovos Brands, Inc. would strengthen and diversify its meals and beverages portfolio, which includes Campbell's, Prego, Pace, Pacific Foods, Swanson, V8 and SpaghettiOs. Rao's, Sovos Brands' largest business, generated $580.1 million in sales last year, with offerings across sauces, frozen entrees, frozen pizza, pasta and soups.
center>
"The Rao's brand delivers a true restaurant quality experience across all of the categories in which it competes: premium sauces, frozen, dry pasta and soup," Mr. Clouse said during an Aug. 7 conference call to discuss the transaction with securities analysts. "In particular, it's a clear market leader in the ultra distinctive Italian sauce segment, a segment of the market where Campbell does not currently compete. The Sovos team has done a remarkable job in driving Rao's growth to date using a playbook of advancing distribution gains, brand awareness and ultimately household penetration. Our plan is to continue to build on that incredible momentum, maintain their high-quality standards and retaining members of their talented team while also applying Campbell's capabilities and resources to drive even more growth on Rao's sauces."
He noted Prego and Rao's "do not interact or compete" within the sauce category.
"It's a different consumer, different occasion," Mr. Clouse said. "And we still have tremendous confidence that Prego within the mainstream segment is going to continue to be a significant growth contributor. And now we've expanded to add a new segment, a new area, new consumers and a new opportunity to complement that. And that, I think, has always been part of our vision for our sauces business as we've talked about the $1 billion path forward. But the fact of the matter is, with the business that we had with Prego, it's just not ever going to compete in that space. And that is why we see this so complementary in nature and why we see it not as a departure or distraction, but simply an acceleration of the strategy that we laid out."
He described Michael Angelo's as a "premium authentic Italian frozen meals brand …  offering an array of frozen meals, including single-serve and family size servings, all with differentiated flavor that are perfectly aligned with at-home eating trends." Frozen meals and pizza represent new categories for Campbell's; however, Mr. Clouse said, "the frozen route to market is not," pointing to the company's existing Pepperidge Farm portfolio of frozen layer cakes and pastries.
"We'll have the ability to build scale utilizing our existing Pepperidge Farm's frozen portfolio, generating synergy across both businesses," he said.
Building on the previous integrations of Snyder's-Lance and Pacific Foods, Campbell Soup's management expects to capture significant synergies following the completion of the Sovos Brands transaction, which is subject to stockholder approval and customary closing conditions, including regulatory approvals.
"We expect annual run-rate cost synergies of approximately $50 million, which we anticipate achieving over the next two years," Mr. Clouse said. "Roughly two-thirds of these synergies are expected to come from targeted selling, general and administrative expense reductions through harmonizing the combined corporate organizations, and one-third realized from our supply chain through greater scale in sourcing and procurement and efficiency gains and cost savings in our operations network."
Carrie L. Anderson, chief financial officer of Campbell Soup Co., identified procurement of vegetables, meat, glass jars, and other ingredients and packaging, as well as manufacturing and contract manufacturing partnerships, warehousing and logistics as opportunities to create supply chain synergies.
"Over the first two years, we expect to incur approximately $90 million of onetime integration costs and cost to achieve synergies, roughly split 70% related to operating expenditures and 30% related to capital expenditures," Ms. Anderson said. "Additionally, as a result of this transaction, we will record incremental noncash intangible amortization expense related to purchase accounting in the range of approximately $15 million to $20 million. Even with this noncash amortization, we expect the transaction to be accretive to Campbell's adjusted EPS by the second year after normalizing out the onetime expenses."
In addition to Rao's and Michael Angelo's, Sovos Brands operates noosa, an Australian-style yogurt business. Mr. Clouse praised the brand and its management, adding, "yogurt is not a place where we see playing long term."
"We plan to kind of keep that business focused on what they're doing and keep dedicated resources there," he said. "We're not assuming big synergy organizationally there at all. We want to let that business continue to do what it's been doing and keep fueling it. And then we'll evaluate from there what and when the right next step would be. But I think what we're getting is a terrific asset and one that I think has a lot of different ways to create value going forward."
News of the acquisition aroused no meaningful reaction from the investment community. Shares of Campbell Soup Co. trading on the New York Stock Exchange closed Aug. 7 at $44.34, down 1.8% from the previous close of $45.15.